Looking for something fun to do over winter break? Join our Young Women in Harmony (YWIH) Virtual Chorus Project!
Female singers under the age of 25 are invited to participate in singing Rachel Platten's Fight Song in four-part barbershop harmony (you're probably familiar with Fight Song, but just in case, here's a link to the official video). Music and learning tracks will be sent to you in advance, and directions will be emailed explaining how to record your video for the virtual choir. There is no charge to participate or fees to pay, thanks to the generous support of North by Northwest Region 13 of Sweet Adelines Intermational.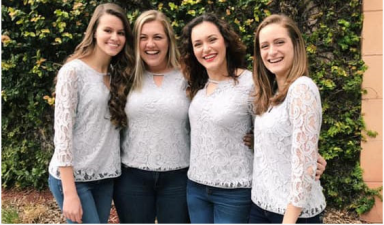 More details:
And now, meet Duly Noted Quartet (shown right), who created the guide videos for this project. Currently Sweet Adelines International's Rising Star Championship quartet, Raegan, Madison, KaleyAnna, and Emily, started in 2019 as a young women's quartet pursuing their musical dreams. You can watch them perform here or visit their Facebook page for more information.
We hope you'll lend your voice to this fun virtual choir! If you have any questions about the project, email Marsha or Bianca.  Technical difficulties submitting the form? Please contact Evelyn.
PS: If you want to invite some friends, feel free to send them this PDF.
Can't see the SUBMIT button? If you cannot see the SUBMIT button at the bottom right of this page, please zoom out by using the CTRL/- keys on your keyboard, or by using the zoom function in your browser.