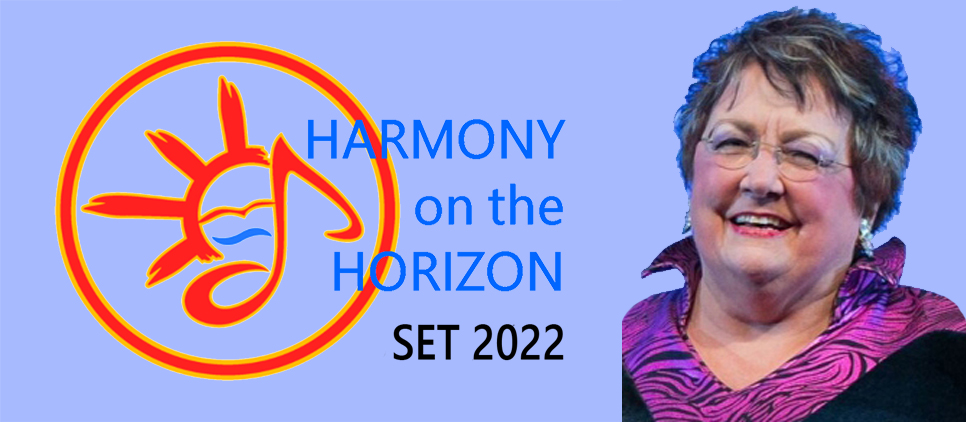 SET is a regional educational event scheduled for August 18-21, 2022, in Pasco, WA, and features the one-and-only Dale Syverson heading our Saturday class schedule. Dale is the Master 700 Director of the 5-time international champions, the Rich-Tone Chorus, which is located in the Dallas-Fort Worth, TX area. She is a Sweet Adelines International (SAI) Certified Expression and Certified Sound Judge, SAI and Regional Faculty Member, been on the SAI International Board of Directors, and received the SAI President's Lifetime Achievement Award in 2004. A talented baritone, Dale achieved international quartet champion status with Tiffanys in 1973 and Rumors in 1999. And, she's a hoot! You'll be educated and entertained all at once.
Our outstanding Region 13 faculty will teach the Friday classes, which will be organized by these tracks: Administrative Leaders, Directors, Vocal/General Membership (Basic), Vocal/General Membership (Advanced), and Quartets. And no worries! You can skip around between tracks (with the exception of some of the Directors classes!)
On Thursday and Friday, we will also again offer PVIs (personal vocal instruction) at $10 for 25 minutes (limited to 25 PVIs), and quartet coaching at $40 for 60 minutes (limited to 5 quartets). These go FAST, so don't delay registering! Please note that quartet coaching cannot be booked until all four quartet members have registered.
BONUS! Your registration includes a Thursday reception with a special performance by Phoenix International-bound Spirit of Spokane Chorus; Friday, Saturday and Sunday breakfasts; and, Saturday dinner! We're also having a Saturday evening show featuring Pride of Portland Chorus and PrimeTime Quartet (both also International-bound!), a return of the Novice Quartet/VLQ Extravaganza, and an Afterglow with tags! It's going to be a very fun-filled weekend.
Registration begins on June 1, 2022. For the best bargain, take advantage of our Early Bird registration, which ends on July 15 and saves you over 40%! Rates go up in stages beginning July 16. Please note registrations are transferable but NOT refundable. An online or paper registration form must be filled out for each attendee, even if someone else is paying for your registration.
Early Bird Registration (June 1-July 15): $105  <-- OPEN JUNE 1!
Regular Registration (July 16-August 15): $135
Registration for young women, ages 25 and younger: $65
Registrations after August 15 and/or on-site: $160 paid at SET
The special hotel rates end July 29, 2022.
---
Hotel reservation information
All SET activities will be held at the Pasco Red Lion Hotel. Included with your reservation is complimentary breakfast, a business center, Tesla charging stations, free wifi, free parking, and complimentary airport transportation. All rooms have a mini-refrigerator and a microwave. Three full-service restaurants--including a sports bar, fine dining, and a café/coffee shop--are on site.
The hotel has given us very favorable rates, too:
Standard room: $99/night + state and local taxes. This room rate is for one person or up to four to a room. One or two queen beds.
Suite: $159/night + state and local taxes. Please check with the hotel for specifics on these rooms: 509-547-0701.
Deadline to make reservations for these special rates is July 29, 2022.
To reserve your room:
First, please note you can only get these special rates through the hotel itself. They are not guaranteed at third-party booking sites such as hotels.com or Expedia.
For a direct link with the group rate and block code auto-populated, click here: Red Lion Hotel reservations for SET

To book by phone, please follow these steps to reserve a room:
-- Let them know you are with the Sweet Adelines group for August 18-21, 2022
-- Give them the group block code: SUMM0818
-- Complete your individual reservation with the agent.

If it becomes necessary to change your plans, please contact the hotel at least 24 hours prior to the 4:00pm check-in to avoid a cancellation charge.
---
COVID protocol
COVID protocol: The welfare and safety of our membership is always at the heart of any decision made by the Regional Management Team (RMT). With this in mind, risk mitigation strategies related to having a live SET were discussed and decided. The RMT intends to continue to monitor the situation and will confirm the decisions at four checkpoints prior to SET. It is not anticipated decisions will change unless the state of the pandemic significantly changes, or if mandates exist. A final mask requirement decision will be made prior to July 15th. Temperature checks, pre-event COVID testing and COVID vaccinations will not be required, unless mandated. You can read an explanation of their decision, as well as the COVID protocol for SET, by clicking here.

REQUIRED READING!

The Regional Management Team has formulated an

Assumption of Risk Waiver and and Release of Liability Agreement

, which you should

read by clicking here

.

By completing the SET registration below, you are also consenting to the terms outlined in this agreement.
---
Ready, "SET," register!
Registration begins on June 1, 2022; rates can be found above.
Paying by check? If you wish to pay by check, you may fill out the registration form below and then mail in a check separately (info is on the Payment page), OR click here to get a printable registration form that you can mail in along with your check.
Region 13 Faculty members: If you will be teaching at SET, you need to fill out a registration form, too. After you submit it, you'll be taken to the Payment page and will find further instructions there.
And remember: registrations are transferable but NOT refundable.