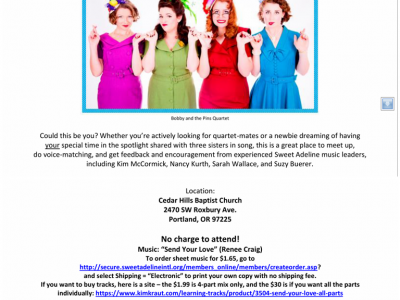 Location:
Cedar Hills Baptist Church
97225
Portland
,
OR
United States
Public Notes / Body:
If you're looking for quartet-mates, or dreaming of sharing your special time in the spotlight with three sisters in song, this is a great place to meet up, do voice matching and get feedback and encouragement from experienced Sweed Adeline leaders.  Workshop leaders are Kim McCormick, Nancy Kurth, Sarah Wallace, and Suzy Buerer.  The workshop is free, so come and pick up information about quarteting!.  Only 40 places are available, so don't wait to sign up. To order sheet music for $1.65 "Send Your Love" (Renee Craig) go to http//secure.sweetadelineintl.org/members_online/members/creatorder.asp? and select "Electronic" to print your own copy with no shipping fee. For learning tracks, here is the site - https://www.kimkraut.com/learnng-tracks/product/3504-send-your-love-all-... $1.99 for 4-part mix only, and $30 for all parts individually.   For more information, contact Suzy Buerer [email protected], 503-317-8016.