Each quartet that becomes a regional champion is inducted into Ovation, our chorus of quartet champions, the following year. Ovation also provides entertainment after each quartet contest prior to the judges announcement. Ovation is energized and enthused! With a new management team and the input of its members, Ovation has goals and direction set in motion. As part of this enthusiasm, new plans are in the works for some exciting educational and singing opportunities for all Region 13 members.
Ovation! Roll Call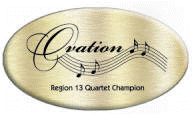 Listed below are our quartet champions since 1957; if the quartet name is hyperlinked, we even have a photo! When parts of Mount 'n Shore Region 24 merged with us in 2013, we incorporated their Gold Country quartet champions into Ovation. You'll see these quartets designated by an asterisk (*). Many thanks to Jody Allen, for digging up most of the information about our winning quartets, to Nancy Kurth for the Region 24 information, and to Anita (Yarnell) Gohl (1965, The Shalimars) for additional details. However, we're still missing some information. If you know any of the missing quartet personnel, their chapter affiliation(s) or have a photo, please contact the webmaster with your information. We'd really appreciate it!
All quartet personnel are listed in tenor, lead, baritone, bass order.
* Former members of Gold Country Chorus
2019 ____________________________________________________________________________________________________________________________
Wink: Kay Keating / Melanie McGuire / Megan Hofkamp / Connie Alward
Chapter at Large, Grand Olympics, Northwest Harmony, and Pacific Sound Choruses
2018 ____________________________________________________________________________________________________________________________
LiftOff!: Donna Stewart / Elizabeth Davies /  Frances Davies /  Patty Hale 
A Cappella Joy, Olympia, Pride of Portland, Song of Seattle, Sound Harmony Choruses
2017 ____________________________________________________________________________________________________________________________
PrimeTime:
Sylvia Posso / Katy Hawley / Patti Burklund / Sonja Mejlaender
Chapter-at-Large, Song of Seattle, and Voices Northwest Choruses
2016 ____________________________________________________________________________________________________________________________
Wink: Kay Keating, Melanie McGuire, Anna Chamberlain, Susan Kegley
Chapter-at-Large, Jet Cities, Olympia and Pacific Sound Chapters
2015 ____________________________________________________________________________________________________________________________
Pepper: LouAnn Hommel, Andrea Olsen, Tonya Garske, Carran Kelley
Chapter-at-Large and Spirit of Spokane Chapters
2014 ____________________________________________________________________________________________________________________________
Pepper: LouAnn Hommel, Andrea Olsen, Tonya Garske, Carran Kelley
Chapter-at-Large and Spirit of Spokane Chapters
2013 ____________________________________________________________________________________________________________________________
Yahtzee!: Tami Kamp, Julie Hagstrom, Megan Hagstrom, Susan Kegley
Pacific Sound Chapters
2012 ____________________________________________________________________________________________________________________________
Backbeat: Katy Hawley, Carol Bailey, Cheryl Cullen, Karen Leet
Chapter-at-Large, Alaska Sound Celebration
*Soundwave: Gail Shelton, Joyce Wheeler, Sandy Cahill, Marsha Kelly
Cascade Harmony and Pride of Portland Choruses
2011 ____________________________________________________________________________________________________________________________
Frenzy: Kay Macrosson, Nikki Blackmer, Anne Marteniuk, Lisa Hood
A Cappella Joy, Lions Gate (R26), Peace Arch (R26) and Westcoast Harmony (R26)
 *Soundwave: Gail Shelton, Joyce Wheeler, Sandy Cahill, Marsha Kelly
Cascade Harmony and Pride of Portland
2010 ____________________________________________________________________________________________________________________________
LiveWire: Teresa McCafferty, Katy Hawley, Anna Chamberlain, Susan Kegley
Jet Cities, Pacific Sound and Chapter-at-Large
*Fourth Avenue: Patty Severns, Shirley Price, Nancy Kurth, Kris Pederson
Pride of Portland
2009 ____________________________________________________________________________________________________________________________
LiveWire: Teresa McCafferty, Katy Hawley, Anna Chamberlain, Susan Kegley
Pacific Sound and Chapter-at-Large
*Paper Dolls: Sylvia Harrington, Tawni Miller, Holly Harrington, Karen Johns
Chapter-at-Large
2008 ____________________________________________________________________________________________________________________________
LiveWire: Teresa McCafferty, Katy Hawley, Anna Chamberlain, Susan Kegley
Pacific Sound and Chapter-at-Large
*Vibe: Lisa Hendrickson, Joyce Wheeler, Sandy Cahill, Paula Gadowski
Pride of Portland Chorus
2007 ____________________________________________________________________________________________________________________________
Mojo: Corinna Garriock, Julie Hagstrom, Patti Burklund, Judy Pozsgay
Lions Gate and Pacific Sound Chapters
*Unlimited: Lisa Hendrickson, Joyce Wheeler, Kathy Davi, Paula Gadowski
Chapter-at-Large and Pride of Portland
2006 ____________________________________________________________________________________________________________________________
Seattle Mix: Amy (Barich) Rose, Sonja Mejlaender, Sydney Thompson, Melanie Wroe
Pacific Sound Chapter
*Unlimited:Carolyn Huber, Joyce Wheeler, Kathy Davi, Paula Gadowski
Chapter-at-Large and Pride of Portland
2005 ____________________________________________________________________________________________________________________________
Transit: Corinna Garriock, Katy Hawley, Leslie Liberman, Kari Metzger
Chapter-at-Large, Lions Gate, and Peace Arch Chapters
*Take Note: Trina Krueger, Lisa Myers, Sandy Cahill, Charlie Brown
Pride of Portland
2004 ____________________________________________________________________________________________________________________________
SoundDesign: Carolyn Huber, Katy Hawley, Sue Beck, Kari Metzger
Chapter-at-Large, Lions Gate and Pacific Sound Chapters
*Hot Topic: Beth Smith, Karla Callaway, Marlys Nelson, Mindi Brizendine
Hood River, Pacific Sound and Pride of Portland Chapters
2003 ____________________________________________________________________________________________________________________________
HeartBeat: Eileen Laycock, Sonja Mejlaender, Patti Burklund, Dina Darren
Pacific Sound and Olympia Chapters
*Final Touch: Gail Shelton, Shirley Price, Nancy Kurth, Joyce White
Pride of Portland Chapter
2002 ____________________________________________________________________________________________________________________________
SoundDesign: Carolyn Huber, Katy (Sansburn) Hawley, Sue Beck, Judy Widener
Pacific Sound and Chapter-at-Large Chapters
*Hot Topic: Beth Smith, Karla Callaway, Marlys Nelson, Mindi Brizendine
Cascade Harmony, Pacific Sound (R13) and Pride of Portland Chapters
2001 ____________________________________________________________________________________________________________________________
Unplugged: Teresa McCafferty, Julie Hagstrom, Anna Chamberlain, Judy Pozsgay
Pacific Sound and Lions Gate (26) Chapters
 *High Frequency: Connie Norman, Lisa (Brown) Myers, CJ Smith-Jenkins, Paula Gadowski
Idaho Falls and Pride of Portland
2000 ____________________________________________________________________________________________________________________________
Seattle Style: Teresa McCafferty, Julie Hagstrom,Anna Chamberlain, Sally Denkelberg
Pacific Sound Chapter

*Out Of Bounds:  Lisa Hendrickson, Lisa (Brown) Myers, Sandy Cahill, Kim Chadwick
Pride of Portland Chapter
1999 ____________________________________________________________________________________________________________________________
Seattle Style: Teresa McCafferty, Julie Hagstrom,Anna Chamberlain, Sally Denkelberg
Pacific Sound Chapter

*Out Of Bounds:  Lisa Hendrickson, Lisa (Brown) Myers, Sandy Cahill, Kim Chadwick
Blue Lake and Willamette Sound Chapters
1998 ____________________________________________________________________________________________________________________________
Seattle Style: Teresa McCafferty, Julie Hagstrom, Anna Chamberlain, Sally Denkelberg
Pacific Sound Chapter
*Out Of Bounds:  Lisa Hendrickson, Lisa (Brown) Myers, Sandy Cahill, Kim Chadwick
Blue Lake and Willamette Sound Chapters
1997 ____________________________________________________________________________________________________________________________
Simpatico: Karen Carter, Katy (Sansburn) Hawley, Sydney Thompson, Melanie Wroe
Pacific Sound Chapter
*Upbeat: Heather (Brown) Bruce, Beth Bruce, Tori Postma, Lynda Meyers
Idaho Falls and Mountain Jubilee Chapters
1996 ____________________________________________________________________________________________________________________________
TrademarK: Teresa McCafferty, Julie Hagstrom, Susan Lamb, Rose Cooper
Pacific Sound Chapter
*Second Glance: Karla Calloway, Shirley Price,Marlys Nelson, Kim Chadwick Callaway
Willamette Sound Chapter
1995 ____________________________________________________________________________________________________________________________
Legacy: Claudia Kirkebo, Pat Wright, Sue Beck, Judy Widener
Pacific Sound Chapter
*Second Glance: Carolyn Laster, Shirley Price, Marlys Nelson, Kim Chadwick Callaway
Blue Lake Chapter
1994 ____________________________________________________________________________________________________________________________
Park Place: Teresa McCafferty, Susann Warner, Anna Chamberlain, Rose Cooper
Jet Cities and Pacific Sound Chapters
*Second Glance: Carolyn Laster, Shirley Price, Marlys Nelson, Kim Chadwick Callaway
Blue Lake Chapter
1993 ____________________________________________________________________________________________________________________________
HeartBeat: Bonnie Willis, Susan Lamb, Patti Burklund, Dina Darrin
Seattle Shores, Pacific Sound, Sea Island Sound and Olympia Chapters
*Surround Sound: Gail Shelton, Lisa Brown, Lynn Hodges, Joyce White
Blue Lake Chapter
1992 ____________________________________________________________________________________________________________________________
Seattle Times: Nora McGee, Carole Kirkpatrick, Sue Beck, Judy Widener
Pacific Sound Chapter
*Surround Sound: Gail Shelton, Lisa Brown, Lynn Hodges, Joyce White
Blue Lake Chapter
1991 ____________________________________________________________________________________________________________________________
Crosstown Sounds: Eileen Laycock, Randa Zaitz, Terri Stanley, Charlene O'Connor
Lakeside and Chapter-at-Large Chapters
*Indigo Blue: Carolyn Laster, Charlie Brown, Cheri Brown, Kim Chadwick
Blue Lake Chapter
1990 ____________________________________________________________________________________________________________________________
Seattle Times: Robin Clark, Carole Kirkpatrick, Sue Beck, Judy Widener
Lakeside and Pacific Sound Chapters
*Mountain Music Co: Donna Trowbridge, Candy Johnson, Melanie Graham, Janet Stevens
Five Valley Chapter
1989 ____________________________________________________________________________________________________________________________
Crosstown Sounds: Eileen Laycock, Randa Zaitz, Terri Stanley, Patti Burklund
Lakeside Chapter
*Alias Smith & Jones: Barbara Bell, Beth Bruce, CJ Smith-Jenkins, Dorothea Jones
Idaho Falls Chapter
1988 ____________________________________________________________________________________________________________________________
Crosstown Sounds: Eileen Laycock, Randa Zaitz, Terri Stanley, Patti Burklund
Lakeside Chapter
*Columbia Connection: Ione Holmes, Kathy Scheel, Joan Cathey, Eileen Kemp
Chapter-at-Large and Columbia River Chapters
1987 ____________________________________________________________________________________________________________________________
Seattle Times: Robin Clark, Carole Kirkpatrick, Sue Beck, Judy Widener
Lakeside Chapter
*Renaissance: Ruth O'Neil, Yvonne Whedon, Joanna Moyer, Joyce White
Blue Lake Chapter
1986 ____________________________________________________________________________________________________________________________
Seattle Times: Robin Clark, Carole Kirkpatrick, Sue Beck, Judy Widener
Lakeside Chapter
*River City Sound Company: Jocie Lorentz Hagen, Linda Tracy, Carol Peterson Swanson, Joanna Moyer
Columbia River and Chapter-at-Large
1985 ____________________________________________________________________________________________________________________________
Alaska Gold: Madeline Nance, Patti Powell, Barbara Designer, Myrna McGhie
Fairbanks Frontier Chapter
*Carousel: Ruth O'Neil, Yvonne Whedon, Linda Smith, Joyce White
Blue Lake and West Hills
1984 ____________________________________________________________________________________________________________________________
First Class Fare: Julie Roth, Judy Mehus, Lois Dye, Rose Cooper
Jet Cities Chapter
*River City Sound Company: Jocie Lorentz Hagen, Linda Tracy, Joanna Moyer, JoAnne Stone
Columbia River Chapter
1983 ____________________________________________________________________________________________________________________________
Huckleberry Jam: Cathie Biggerstaff, Beth Bruce, Anita Gohl, Bonnie Miller
Rainbow Country Chapter
*Columbia Connection: Ione Holmes, Kathy Poe Scheel, Joan Cathey, Henrietta Lindsay
Columbia River Chapter
1982 ____________________________________________________________________________________________________________________________
Crosstown Sounds: Robin Clark, Randa Zaitz, Terri Stanley, Patti Burklund
Lakeside Chapter
*Fulltime Enjoyment: Donna Trowbridge, Candy Johnson, Melanie Graham, Audry Beagle
Five Valley Chapter
1981 ____________________________________________________________________________________________________________________________
Past Reflections: Ann Houston, Andrea Kaiserman, Dena Richardson, Beth Garske
Lilac City and Lakeside Chapters 
1980 ____________________________________________________________________________________________________________________________
Crosstown Sounds: Terri Stanley, Vicki Loomis, Randa Zaitz, Patti Burklund
Lakeside Chapter
1979 ____________________________________________________________________________________________________________________________
Arctic Association: Kluane Spake, Patti Powell, Elaine Jacobson, Myrna McGhie
Fairbanks Frontier Chapter
1978 ____________________________________________________________________________________________________________________________
Classified Ads: Donna Mitchell, Carole Kirkpatrick, Laila Owen, Joan Sneva
Lilac City and Sunfair Chapters
1977 ____________________________________________________________________________________________________________________________
Our Own Special Blend: Carol Talbot, Ann Barnhart, Nancy Jones (Todd), Patty Mathers
Olympia Chapter
1976 ____________________________________________________________________________________________________________________________
Classified Ads: Donna Mitchell, Hope Mumford (Fulwiler), Laila Owen, Joan Sneva
Lilac City Chapter
1975 ____________________________________________________________________________________________________________________________
Misty-Aires: Joanne Lobberegt, Leona Sigurdson, Juanita Harwood, Ellie Hughes
Seattle Chapter
1974 ____________________________________________________________________________________________________________________________
Sun Flairs: Gail Shelton, Carole Kirkpatrick, Mary Leah Griffith, Karla Samuelson
Sun Fair City and Yakima Chapters
1973 ____________________________________________________________________________________________________________________________
Pepsi Chords: Irene Moore, Lois Klassen, Shirley Raike, Norma Alexander
City of Gardens Chapter
1972 ____________________________________________________________________________________________________________________________
Renaissance: Barbara Ball, Karen Hampe, Yvonne Whedon, Sue Critchlow
City of Roses Chapter
1971 ____________________________________________________________________________________________________________________________
Transpositions: Ruth O'Neill, Dolores Axford, Betty Mathis, Harriet Cole
St. Helens Chapter
1970 ____________________________________________________________________________________________________________________________
Lakeside Continentals: Sandra Shaw, Mary Ann Colgan, Ann Liechty, Donna Raymond
Lakeside Chapter
1969 ____________________________________________________________________________________________________________________________
Valley Pipers: Yvonne Whedon, Mary Hartman, Edith Durfey, Viola Zipf
Willamette Valley and City of Roses Chapters
1968 ____________________________________________________________________________________________________________________________
Solitaires: Ethel Voss (Bowen), Karen Hampe, Julie Miesen, Ruth Augsburger
City of Roses Chapter
1967 ____________________________________________________________________________________________________________________________
Timbertones: Marne VanOttersledt, Billie Coen, Edith Durfey, Viola Ziph
Willamette Valley Chapter
1966 ____________________________________________________________________________________________________________________________
Embers: Bonnie Parente, Marlene Pence, Sharon Lacey, Betty McCall
Jet Cities and Puget Sound Chapters (and be sure to check out the Embers' video!)
1965 ____________________________________________________________________________________________________________________________
Airesses: Marge Gardner, Carole Kirkpatrick, Dorothy Bidlake, Sally Willsey
Yakima Chapter
1964 ____________________________________________________________________________________________________________________________
Sound-A-Chords: Barbara Streeter, Marlene Pence, Mary Richards, Betty McCall
Puget Sound Chapter
1963 ____________________________________________________________________________________________________________________________
Columbia River Belles: Mary Ann Kunze, Lucille Frasier, Barbara Aase, Harriet Cole
Columbia Chapter
1962 ____________________________________________________________________________________________________________________________
Portland Pipers: Donna Schell, Barbara Tate, Shirley Shepherd, Barbara Rudnick
City of Roses Chapter
1961 ____________________________________________________________________________________________________________________________
Four-Ever-Ettes: Bonnie Dale, Bette Thompson, Doris Dolman, Elaine Oke
Everett Chapter
1960 ____________________________________________________________________________________________________________________________
Sea-Adelines: 1962 Queens of Harmony
Shirley Alfonso Humann, Jamel Hassen Barden, Katie Schwarzhans, Zoe Thompson
Puget Sound and Lakeside Chapters
1959 ____________________________________________________________________________________________________________________________
Yakimoms: Maxine Bassani, Helen Hoagland, Elda Jain, Bettie Greene (Bronco)
Yakima Chapter
1958 ____________________________________________________________________________________________________________________________
Trim Tones: Harriet Sawyer, Jamel Hasson, Katie Schwarzhans, Coleen Crain
Puget Sound Chapter
1957 ____________________________________________________________________________________________________________________________
Northwest High Flyers: Pat Chellin, Emma Kopasis (Whipperfurth), Olive Van Wagenen, Dorothy Rowe
Puget Sound Chapter