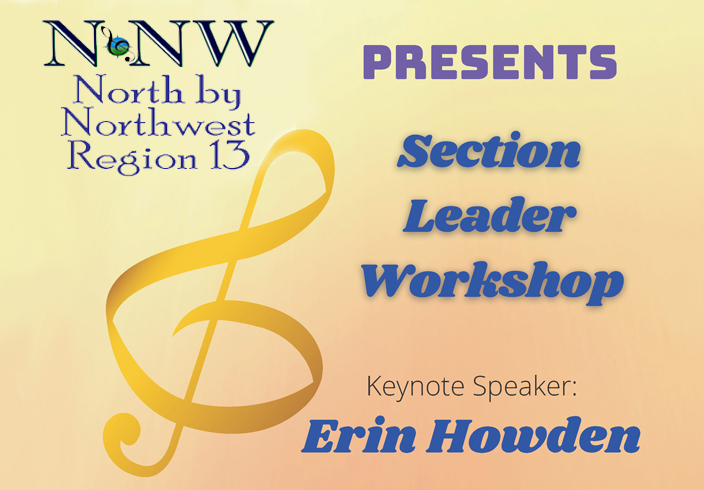 Are you a seasoned section leader who hasn't had a section to lead in a long time? Are you ready to hone your skills? Have you been interested in being a section leader, but didn't really know what that entailed? Are you ready to learn tips from the best? Good! The Region 13 Management Team is ready to set you up for success. 
Join us, via Zoom, for the Region 13 Virtual Section Leader Workshop, beginning on Friday, August 20 from 6:00-9:00 pm PDT, and continuing on Saturday, August 21 from 9:00 am-12:00 noon PDT. We'll kick off the weekend with a Keynote Speech from the amazing Erin Howden, Master 700 Director of the many-championed North Metro Chorus. The workshop classes will be taught by our experienced and knowledgeable Region 13 Faculty and includes six directors/past directors and a SAI judge! The weekend will focus on connecting musical leaders within our Region, setting goals for sectional rehearsals, analytical thinking of a section leader, and building and bonding your section in a safe manner. See the complete schedule here!
The cost for the whole weekend is just $15.00 per person, and you need not be a member of Region 13 to attend! Upon registration and payment receipt, you will receive the link to the Zoom meeting.
If you have any questions, or plan to pay by check rather than through PayPal with debit/credit card, please contact us at [email protected].
Can't see the SUBMIT button? If you cannot see the SUBMIT button at the bottom right of this page, please zoom out by using the CTRL/- keys on your keyboard, or by using the zoom function in your browser.