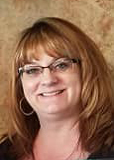 Welcome to the webpage for ALL THINGS CAL! We love our wonderful Chapter-at-Large (CAL) members, many of whom are contributing in large and small ways to the success of North by Northwest Region 13. CAL members serve on the Regional Management Team and other committees, hold faculty positions, perform and compete in registered quartets, and participate in Ovation! (Region 13's chorus of quartet champions). These wonderful women support our region by paying dues, participating in events, going to local chapter shows, and supporting their friends singing in quartets and chapters! 
Your Region 13 liaison is Andren Moyer, shown right. Contact her for all things CAL related: Andren Moyer / 5209 N Mulvaney Ct, Spokane, WA 99212 / 509-869-4991.
Contact Andren if you have any problems with your Chapter-at-Large membership. More information is available for CAL members in the Members Only section.